Facial PlasticSurgery Financing
These days, financing a Philadelphia facial plastic surgery procedure has become increasingly simple and relatively hassle-free. No matter what your financial situation is, you may be able to receive a suitable and low monthly payment plan. For your convenience, we also accept cash, cashier's checks, credit cards and debit cards. If these payment options do not fit your needs, we have provided the following links for two outside financing companies that may be able to assist you.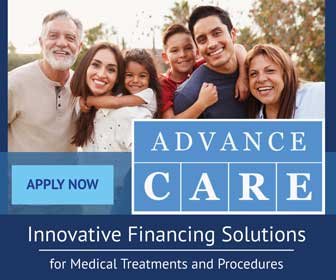 Advance Care has been providing financing solutions since 2008. They provide patients with affordable options to finance procedures or treatments. This option gives you affordable monthly payments with flexible terms. Advance Care has the best credit card offers for all different credit types. When you browse their database and pick the most appropriate offer, you will go to the bank's site to directly apply for the card. The approval process is very short and you can receive your card quickly. What is most important is to look your best, and Advance Care can help to provide interest-free or low interest rates, generous credit limits, no money down, no prepayment penalty and no annual fee.
Please feel free to call us at (610) 688-7100 if you have any additional financing questions. We will be happy to assist you with any help that you may need.

CareCredit is a quick, easy, and safe way to finance your facial plastic surgery procedure. You'll be able find out immediately if you're approved and you'll be able to use your account right away. Call (610) 688-7100 to apply for your CareCredit card.
It is a good idea to call our office prior to submitting an application so that we can help you with the requested amount. The application process is hassle-free, and you may complete it online, on the phone, or by fax. Most of the time you will find out if you're approved instantly. However, if you are declined, there is no need to be discouraged because you may find another company that suits your needs better. Don't forget that you can also apply with a co-signer as this may help your application and strengthen your credit rating.

WITH THE ALPHAEON CREDIT CARD*, YOU GET:
A wide array of monthly payment options to help you reach your individual goals
Special financing plans that are not always readily available with traditional credit cards
The ability to use your card again for yourself or family members with no need to reapply and no annual fee
Your Best You is Closer than You Think!
*Subject to credit approval and availability. Purchase must be made using the ALPHAEON CREDIT Card Account. ALPHAEON CREDIT Card Accounts are offered by Comenity Capital Bank which determines qualifications for credit and promotion eligibility. Account must be in good standing at the time of purchase. At no time will the minimum payment due be less than $27.00. Minimum interest charge is $2.00 per credit plan. Standard variable APR of 28.99%, based on the Prime Rate. Comenity Capital Bank issues ALPHAEON CREDIT Card Accounts which can be used with participating physicians.
Schedule Your Appointment with Dr. Pontell Today
If you would like to learn how Dr. Jonathan Pontell can help you rejuvenate your facial appearance or correct various aesthetic flaws, schedule a personal consultation by calling his offices at (610) 688-7100. During your in-person or virtual consultation, Dr. Pontell will explain your facial plastic surgery options and help you determine whether you might be an eyelid surgery, forehead lift or facelift Philadelphia candidate. Similarly, Dr. Pontell can help you choose the most appropriate facial implants, lip augmentation and rhinoplasty procedures. He can also explain various non-surgical treatments tha